Calcium and Vitamin D Supplementation Don't Help Osteoporosis
Jill Porthouse, Sarah Cockayne, Christine King,, et al. Randomised controlled trial of calcium and supplementation with cholecalciferol (vitamin D3) for prevention of fractures in primary care. BMJ 2005 330: 1003.

York Trials Unit, Department of Health Sciences, University of York, York YO10 5DD, 2 Bone Clinic, Freeman Hospital, Newcastle upon Tyne, 3 Hertfordshire Primary Care Network, Ware, Herts

ABSTRACT
Objective To assess whether supplementation with calcium and cholecaliferol (vitamin D3) reduces the risk of fracture in women with one or more risk factors for fracture of the hip.

Design Pragmatic open randomised controlled trial.

Setting Practice nurse led clinics in primary care.

Participants 3314 women aged 70 and over with one or more risk factors for hip fracture: any previous fracture, low body weight (under 58 kg), smoker, family history of hip fracture, or fair or poor self reported health.

Intervention Daily oral supplementation using 1000 mg calcium with 800 IU cholecaliferol and information leaflet on dietary calcium intake and prevention of falls, or leaflet only (control group).

Main outcome measures Primary outcome measure was all clinical fractures and secondary outcome measures were adherence to treatment, falls, and quality of life (measured with the SF-12).

Results 69% of the women who completed the follow-up questionnaire at 24 months were still taking supplements (55% with inclusion of randomised participants known to be alive). After a median follow-up of 25 months (range 18 to 42 months), clinical fracture rates were lower than expected in both groups but did not significantly differ for all clinical fractures (odds ratio for fracture in supplemented group 1.01, 95% confidence interval 0.71 to 1.43). The odds ratio for hip fracture was 0.75 (0.31 to 1.78). The odds of a woman having a fall at six and 12 months was 0.99 and 0.98, respectively. Quality of life did not significantly differ between the groups.

Conclusion We found no evidence that calcium and vitamin D supplementation reduces the risk of clinical fractures in women with one or more risk factors for hip fracture.

COMMENT:
Although elderly women (mainly) are routinely prescribed calcium tablets and vitamin D supplements to treat osteoporosis, it has long been demonstrated that this does not help. (In fact other studies have suggested that calcium supplementation may actually make the condition worse.)

This is not surprising as a lack of calcium causes osteomalacia (an adult form of rickets) not osteoporosis, a common misconception. Osteoporosis is caused by a weakening of the protein matrix of the bones, and the best preventative measure for this is a high-protein diet, not calcium.

Here is a bone mass density scan of a woman who has eaten a high-protein/fat diet for 45 years. She was 66 years old when this scan was done in 2004.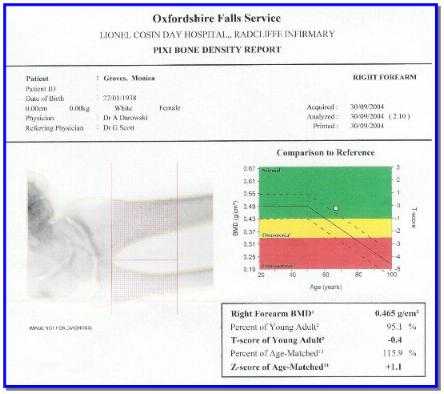 Click graphic for larger image
As you can see, this 66-year-old has the bone density of a 20-something.
---
Related Articles
---