Higher fat intake = Lower death rate
Leosdottir M, Nilsson PM, Nilsson J-A, et al. Dietary fat intake and early mortality patterns — data from The Malmo Diet and Cancer Study. J Intern Med 2005; 258: 153-165.
Abstract.

Objectives. Most current dietary guidelines encourage limiting relative fat intake to <30% of total daily energy, with saturated and trans fatty acids contributing no more than 10%. We examined whether total fat intake, saturated fat, monounsaturated, or polyunsaturated fat intake are independent risk factors for prospective all-cause, cardiovascular and cancer mortality.

Design. Population-based, prospective cohort study. Setting and subjects. The Malmo Diet and Cancer Study was set in the city of Malmo, southern Sweden. A total of 28 098 middle-aged individuals participated in the study 1991-1996.

Main outcome measures. Subjects were categorized by quartiles of relative fat intake, with the first quartile used as a reference point in estimating multivariate relative risks (RR; 95% CI, Cox's regression model). Adjustments were made for confounding by age and various lifestyle factors.

Results. Women in the fourth quartile of total fat intake had a significantly higher RR of cancer mortality (RR 1.46; CI 1.04-2.04). A significant downwards trend was observed for cardiovascular mortality amongst men from the first to the fourth quartile (P = 0.028). No deteriorating effects of high saturated fat intake were observed for either sex for any cause of death. Beneficial effects of a relatively high intake of unsaturated fats were not uniform.

Conclusions. With the exception of cancer mortality for women, individuals receiving more than 30% of their total daily energy from fat and more than 10% from saturated fat, did not have increased mortality. Current dietary guidelines concerning fat intake are thus generally not supported by our observational results.

COMMENT: There have been a few studies recently that purported to show that if you ate more fat, you were increasing your risk of a heart attack. This study from Lund University in Malmo, Sweden, says exactly the opposite.

In the graph below are the four 'quartiles' of fat intakes and the Relative Risks (RR) of heart death in men. As you can see, as fat intake rises, cardiovascular deaths go down.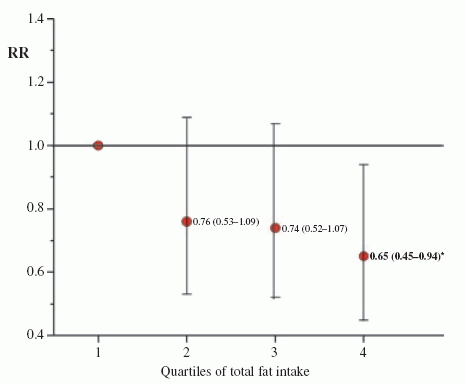 In fact men who got 50% or more of their calories fom fats had the lowest heart death rates.

In women the situation is slightly different. In women, heart death rates are also not increased by rising fat intakes - except in the highest quartile. Luckily, this study breaks down the various types of fats eaten. If we look at them, we find that heart deaths go down in women as intakes of both saturated and polyunsaturated fats increase. The only fats that turn out to raise the risk of a heart death for women in this study are 'healthy' monounsaturated fats.

It's a similar story with cancer deaths. In men cancer rates are the same whatever the level of fats eaten; and with women, the more monounsaturated fats eaten, the higher the numbers of cancer deaths.
Last updated 30 May 2007
---
Related Articles
---