Why do they need to lie?
In my Introduction to this subject I wrote of ITV News's series of articles which purported to show how man-made global warming was already having a devastating effect on both humans and wildlife. I suggested these were lies. So before they sue me, I had better explain why I wrote that and, to do so, I'll explain these in detail.
Sea levels and the Carteret Islands
I wondered: if the sea water were as high in the Carteret Islands as ITV and the Carteret Islanders made out, what had really happened?
The answer wasn't difficult to find. What had really happened was this. The Carteret Islands are part of Papua New Guinea, not far from the capital, Bougainville. In the 1990s there had been a civil war in Papua New Guinea and many of the inhabitants of Bougainville had fled to the Carteret Islands to avoid the bloodshed. This, of course, had massively inflated the islands' population and that increased population had to be fed.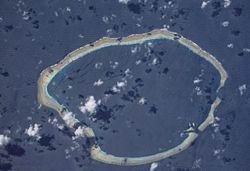 The Carteret Islands lie within an almost circular reef about 30 miles in diameter. The islanders thrive by fishing within the lagoon. But with so many more mouths to feed the fish stocks were insufficient. So, what the islanders did, apparently, was dynamite their reef to allow more fish in. But this also allowed the big Pacific rollers in – and they were washing the islands away. The sea level wasn't rising; the Carteret Islands were sinking.
And this was known at the time. Fred Terry, the director of the United Nations Development Project on Bougainville, had already pointed out that the destruction of reefs in the Carterets with dynamite might be the cause of flooding on the Carteret Islands. 'During the Bougainville conflict people went to the atolls to get away from the conflict,' Mr Terry said.1 'The islanders had all these extra mouths to feed and needed more fish. They have a history as reef destroyers.'
So, yes, the inundation of the Carteret Islands was caused by man, but it had nothing whatever to do with global warming.
Reference
1. Greg Roberts. Islanders face rising seas with nowhere to go. Sydney Morning Herald, 30 March 2002.
Last updated 20 February 2009

---
Related Articles
---