Articles by Wayne Martin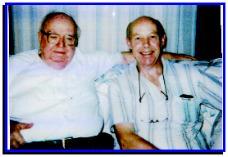 Wayne Martin and Barry Groves, Fairhope AL, November 1998
In January 1996, I had a letter published in the British medical journal, Lancet, about the cancer causing effects of polyunsaturated fats. Wayne Martin responded to this letter by writing to me. That started a fax correspondence that continued right up to Wayne's death in May 2006.

In November 1998, I visited Wayne and his wife, Betty, at their home in Fairhope, Alabama.

Although Wayne Martin had a computer, he was not connected to the Internet. For that reason, he asked me to publish his work on my website. I was very happy to do so.
---
About Wayne Martin BS, ChE
A brief resumé of Wayne Martin's life.
---
Is hydrochloric acid better than antibiotics?
As antibiotic resistant strains of bacteria increase and patients die of hospital-borne infections, is this a better weapon in the armoury?
---
Coffee and Pancreatic Cancer
Does drinking coffee increase the risk of pancreatic cancer?
---
Dipyridamole
Dipyridamole is a cheap, generic drug that appears to have anti-cancer properties. Wayne Martin tells of it here.
---
Reducing Deaths from Heart Attacks and Cancer
Wayne Martin suggests that deaths from heart attacks and cancer can be reduced by half without changing our lifestyles all that much.
---
Coley's Toxins
In the late 19th Century, a cancer surgeon, William Bradley Coley, developed a cancer vaccine which is now known as Coley's Toxins. It was remarkably successful in the cure of cancer.
---
Letter to the Townsend Letter for Doctors and Patients
---
Coley's Toxins again
This second, longer article on Coley's Toxins was published in the February/March 2003 edition of the Townsend Letter for Doctors.
---
Last updated 28 January 2010
---
---